As inflation, economic headwinds, and labor shortages increase pressure on supply chains around the world, businesses are looking to do more with less. Exotec SAS said it can help, today adding a new conveyor system, an enhanced picking system, and new warehouse software to its robotics portfolio.
The Croix, France-based company said the new technologies integrate with its Skypod automation. Exotec claimed that each of its offerings follows its modular design principles to help customers easily add capabilities to their existing systems.
"With these innovations, we are further enabling our customers to run efficient, scalable, and modular warehouses that flex to fit their unique needs," stated Romain Moulin, co-founder and CEO of Exotec. "Our work with more than 30 industry-leading brands provides us with a unique perspective on the most pressing warehousing needs and allows us to continuously innovate to unlock even more value for our customers."
The company added that brands such as Carrefour, Decathlon, Gap, and Uniqlo trust its goods-to-person robots to profitably navigate rapid shifts in business models and customer experiences. It said it combines hardware and software to drive operational efficiency, add resilience, and improve working conditions for warehouse operators.
Exotec last year raised $335 million in Series D funding and last month marked the manufacture of its 4,000th robot.
Exotec adds to Skypod road map
"Since the beginning of Exotec, people wanted solutions—they're not buying robots; they want ways to improve productivity," said Arthur Bellamy, chief revenue officer at Exotec. "That's our value proposition, and we had to integrate a number of machines for a full solution."
"We either couldn't find what we wanted on the market, or they took a lot of time and money to integrate, so we decided to develop our own tools," he told Robotics 24/7. "These new products are part of our Skypod roadmap and are also in response to customers."
Skypath is a modular conveyor
Skypath is a plug-and-play conveyor system that can reach a maximum throughput of 2,500 totes per hour.
"That's not necessarily faster than other systems, but what makes our high-performance conveyor interesting is that it's quick to install and easy to expand," Bellamy said. "We were spending so much time installing conveyors, even when they were a small part of a project, that we needed to adapt it."
The modular design consists of straight, curved, and inclined building blocks that fit most logistics layouts, said Exotec. For ease of installation, it comes pre-wired and requires no programming on site.
The embedded software helps identify the conveyor layout, so 500 m (1,640 ft.) of conveyors can be installed in less than 200 hours, the company claimed. Skypath's built-in sensors and 24/7 support ensure fast diagnostics and remote intervention, minimizing downtime, Exotec added.
The system can be easily modified to adapt to changing customer needs with minimal interference to ongoing site operations, said the company. Developing reliable and modular conveyor hardware was more difficult than updating the sofware components of Skypod, said Bellamy.
"Another point is that we have the ability to guarantee performance because we're not doing PLC programming," he said. "Since it's software-based, we can monitor and deal with issues remotely. It's more like a robot than a conveyor."
Skypicker brings intelligence to picking
Skypicker is a robotic picking system for warehouses. It features 3D cameras and sensors to automatically detect each item's dimensions.
Thus, Skypicker can intelligently place items in preparation containers in a way that optimizes for the available space and smooth package handling. Its use of machine learning-based vision also removes the reliance on accurate database maintenance, said Exotec.
The proprietary software identifies the best picking trajectory in real time, improving performance with heavy and fragile packages. Exotec said Skypicker can reliably reach outputs of up to 600 items per hour.
If the Skypicker's suction cup has a hard time picking an item, for example a T-shirt, the system can learn to send it to a manual picking station, said Bellamy.
"Skypicker features cameras at both the picking and placing of items, so it can be smarter in handling items so they take less space," he said. "Having something that's much smoother and smarter can be applied to consumer packaged goods and electronics."
Deepsky provides visibility
Deepsky is customizable, end-to-end warehouse software that integrates with most warehouse management and control systems (WMS/WCS), as well as third-party automation equipment, said Exotec. It automatically collects system messages and feeds the data into pre-configured dashboards for immediate visibility.
"Deepsky takes stock of ongoing operations and optimizes for consistent performance," the company said. "The software proactively adapts routes in case of potential failures to ensure continuous operations."
In addition to out-of-the box functionality, Deepsky allows users to create custom dashboards to meet their specific needs, Exotec explained.
"Our customers have asked for the ability to monitor and see data through dashboards," said Bellamy. "The philosophy behind Deepsky is similar to the way we had to connect in terms of APIs to the WMS, but where it changes is how easy it now is to add new machines. We're taking what we've learned and bringing this to compatibility with third-party machines."
Balancing innovation and ease of use
"Instead of starting with hardware and then doing a little software development, they go hand in hand for us," Bellamy said. "Including something as traditional as a conveyor, we bring a modern, robotics view to it."
"For manipulation and grasping, we looked at what the market was doing, and we developed our systems and software to do that," he added. "Exotec's Deepsky software comes with regular updates, so there's one version across our installed base around the world. Wherever Skypod is running, performance optimization is included, so customers don't have to buy updates."
Exotec's plug-and-play approach also helps with scalability and complexity, said Bellamy.
"We're building products that are consistent from one site to the next, but we can't afford to treat each project independently," he observed. "How we plug products together can change by facility, but each product is the same, which enables us to scale."
Exotec showed its technology at NRF last week in New York. "We mostly talked about how the Skypod system compares with manual operations, which are 80% of facilities," Bellamy reported. "It's a huge playing field, and there is a lot of interest, despite a challenging macro[economic] environment, where companies are struggling to find labor and make investments."
Exotec also plans to exhibit at Manifest in Las Vegas later this month and at ProMAT in March. The company will have a larger system on display at ProMAT in Chicago, said Bellamy.
About the Author
Eugene Demaitre
Eugene Demaitre is editorial director of Robotics 24/7. Prior to joining Peerless Media, he was a senior editor at Robotics Business Review and The Robot Report. Demaitre has also worked for BNA (now part of Bloomberg), Computerworld, and TechTarget. He has participated in numerous robotics-related webinars, podcasts, and events worldwide. Follow Eugene:
Follow Robotics 24/7 on Facebook
Article topics
Email Sign Up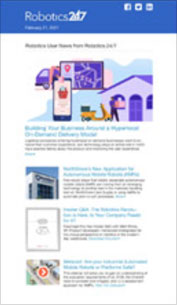 Get news, papers, media and research delivered
Stay up-to-date with news and resources you need to do your job. Research industry trends, compare companies and get market intelligence every week with Robotics 24/7. Subscribe to our robotics user email newsletter and we'll keep you informed and up-to-date.