On a daily basis, food and beverage distributors have a unique opportunity to contribute their knowledge and skills to one of the world's most profitable and influential industries. The stakes are high though, and the consequences of errors can have a domino effect. One false move and a customer won't receive their products on time. One miscalculation and the wrong products will get shipped. Not only will suppliers be delayed as they stock their shelves, but shoppers may be unable to purchase the goods they need. That can have a negative impact on the profit margins of the suppliers, as well as the revenue of the manufacturers that produced the food and beverages in the first place.
To help minimize errors and improve manufacturers' and suppliers' experiences, food and beverage distributors are focusing on their own operations, particularly the ways in which they can optimize picking, use space and improve their robotics technology. As a result, experts are seeing the following four trends in many food and beverage warehouses and DCs.
1. AS/RS optimizes the picking process
No matter how many years of experience food and beverage distributors may have, human errors are simply unavoidable. Whether products aren't delivered on time or, even worse, sent to the wrong customer, picking and distribution errors can have detrimental effects on reputations and bottom lines.
To reduce the probability of human error, simplify the picking process and improve order fulfillment, food and beverage warehouses and distribution centers are beginning to integrate high-density, automated storage and retrieval systems (AS/RS) with their materials handling systems.
This integration allows facilities to store more food and beverages in the same—if not less—amount of space than in conventional storage methods, as AS/RS typically increases storage capacity by 30% to 50%, while also decreasing the overall footprint of the building by upward of 50%.
"AS/RS brings products close to the shelves with high velocity," says Staci Cretu, marketing communications manager at Westfalia Technologies. "In doing so, they are able to optimally store products, layers and cases, with and without pallets, and systematically pick them from the inventory to palletize and ship to customers."
By optimizing the picking process, food and beverage facilities will no longer need to accommodate an increase in inventory through new construction; rather, by retrofitting their existing warehouses with AS/RS, distributors can use their current space to its full potential and save thousands in construction costs.
Of equal importance, AS/RS also allows food and beverage distributors to visualize their equipment status, inventory levels and order backlog, along with other key information. This real-time visualization, coupled with automation, helps distributors manage by exception, as they are able to notice and address problems before they become larger issues.
"There is no redundant or repetitive manual materials handling, so, on top of greater productivity and faster picking, distributors experience an increase in order accuracy, as well as a reduction in product damage," Cretu explains. "This translates into cost savings that the company can pass on to its customers."
Real-time visualization, as well as product traceability, is especially critical during food and beverage recalls. To limit public exposure, distributors can analyze AS/RS data archives, as they search for product batches or lots with specific universal product codes or stock keeping units (SKUs). In doing so, they can determine when and where a product was shipped, so that only recalled items are pulled from store shelves.
In addition, since the Food Safety Modernization Act focuses on the tracking of domestically and foreign produced goods, the necessity for data capture is even greater now, not only in food and beverage manufacturing plants, but throughout the entire supply chain.
"Buyer expectations continue to rise, in regard to quality and recall abilities," says Perry Galanopoulos, director of The Progress Group. "The quality control teams involved in system design are increasingly seeking the ability to trace and 'hold' products from the time in which raw materials are received—to the final stages of the supply chain process."
2. WES controls the entire warehouse
For several years, food and beverage warehouses and distribution centers have used two different types of applications within their operations—a warehouse management system (WMS) to manage the conventional workflow and a warehouse control system (WCS), which actually executes the workflow that uses automated systems.
However, throughout the food and beverage industry, distributors are gravitating toward an alternative: warehouse execution systems (WES), a software solution that controls the order fulfillment process once a WMS creates a batch of orders. Typically, the WMS still manages receiving, putaway and inventory management, acts as the intermediary between the warehouse and the enterprise resource planning (ERP) and order management systems and handles shipping. The WCS then directs picking and synchronizes the flow of goods to the packing area.
"The basic idea is merging the WMS that directs people, and the myriad of disparate WCS that directs mechanization, including conveyors, palletizers and label applicators," Galanopoulos explains.
By combining WMS with WCS, WES help distributors direct, control and optimize internal material flow and order picking throughout their warehouses and distribution centers. As distributors streamline all warehousing activities through a single application, they will reduce the complexity they previously encountered while using WMS and WCS separately.
"If WMS and WCS are not properly integrated, food and beverage companies run the risk of inventory inaccuracies, misrouted products and confusing workflows, all of which hinder the order fulfillment process," says Cretu.
3. Warehouse automation and space utilization
As food and beverage warehouse managers continue to seek new methods to lower the costs of their business operations, they must consider the expense of cold storage facilities. After all, a considerable portion of the food and beverage warehousing industry is involved with the cold storage of perishable goods—dairy, meat, poultry—in some capacity or other.
Due to the energy that is exerted by cold storage facilities' lighting, materials handling equipment and refrigeration, they are very expensive to operate. Not to mention, as inventory levels continue to rise, cold storage facilities may be pressured to expand, which further increases the costs of operation.
"To reduce energy consumption and its associated costs, food and beverage companies are now implementing warehouse automation technology," Cretu says. "The energy savings an automated warehouse provides is recouped through more efficient space utilization, as well as the need for fewer interior lights."
Since refrigerated and frozen warehouses' lighting systems are typically on 24/7, leading to substantial electricity expenditures, automated warehouses' energy costs can potentially decline by as much as 40%, according to Cretu, as less interior lights are used.
At the same time, a steady rise in SKUs, particularly within the beverage industry, is leading warehouse and DC managers to further improve upon their utilization of space. In the past, warehouses had roughly 300 to 400 SKUs at a time, but recently that aggregate has increased to nearly 1,500. This figure will likely continue to rise, as consumers are emphasizing an interest in healthier products, and manufacturers are responding by introducing new brands and product options.
"As products continue to expand and diversify, and SKUs increase, distributors will require access to more pick faces and longer pick paths," Galanopoulos says. "And, due to a rise in demand and variability, they will also encounter new challenges as they manage shelf life."
Previously, customer orders were either comprised of full pallets of one SKU or pallets with multiple layers, each of which contained one SKU. But, today, many orders are being completed at the case level instead. Since more SKUs—either in pallet form or in case flow racking—need to be presented to operators to complete clients' orders, warehouse managers must be flexible as they use their space.
"Food and beverage warehouse managers need to be more nimble than ever before," Galanopoulos adds. "By remaining attentive to new brands, and focusing on good product slotting for utilization and productivity, managers will be able to maximize their space for inventory as SKUs continue to increase."
4. Robotics technology increases in popularity
In response to the rise in SKUs and the necessity to optimize the picking process and use space, food and beverage warehouses and DCs are also increasing their purchases of robotics technology.
Not only are robotics affordable to implement and operate, but their sophistication is continuing at an exponential rate, as new applications are being conceived by consumers, integrators and manufacturers. The options are certainly wide-ranging, whether distributors are interested in purchasing robotics that improve the efficiency of warehouse operations or technology like drones or autonomous automobiles that enhance the delivery of products.
Although certain robots are continuously being developed only for the food industry, such as in-store robotics that replenish shelves and robotic dispensers that prepare food, the primary focus for all food and beverage facilities, regardless of the products they distribute, is to automate the storage and retrieval of goods.
"Today, the ways in which products are delivered depends on how they will be consumed," says Cory Hypes, executive vice president of Power Automation Systems. "As consumers continue to desire a more diverse product line, distributors will have to deal with that flexibility through robotics."
Whether food and beverage distributors are storing and picking cases or store-ready goods, any robotics that reduce in-person handling, and, ultimately, the costs of delivery to consumers, should be considered.
"Robotic case picking, in particular, is becoming more attractive as the technology improves and costs are reduced," Galanopoulos says. "Meanwhile, robotic palletizing allows for a smaller footprint and greater flexibility, as a single arm is fed by a conveyor with mixed SKUs and then palletized to several different stations simultaneously. With the proper planning, these solutions can be scaled effectively."
To exceed customers' expectations and deliver products accurately and timely, food and beverage distributors should not only consider the diversity of robotics, but also the impact they can potentially have on bottom lines.
"As their costs to implement and operate steadily decline, I foresee distributors purchasing robotics of all kinds in the future," Hypes adds. "The technology will definitely continue to impact the food and beverage warehouse and distribution environment, especially as robotics are refined in the coming years."
Companies mentioned in this article
• Power Automation Systems
• The Progress Group
• viastore
• Westfalia Technologies
About the Author
Chris Lewis
Chris Lewis is the owner of Innovative Written Solutions, a content development and editorial services company based in Troy, Mich. In addition to developing content for Modern Materials Handing and Material Handling Product News, he has also written for a variety of companies, ranging from Golf Channel to St. Jude Children's Research Hospital, as well as industries like engineering, higher education and workforce solutions. He can be reached at
[email protected]
or www.linkedin.com/in/chris-lewis-aa301b14.
Follow Robotics 24/7 on Facebook
About the Author
Chris Lewis
Chris Lewis is the owner of Innovative Written Solutions, a content development and editorial services company based in Troy, Mich. In addition to developing content for Modern Materials Handing and Material Handling Product News, he has also written for a variety of companies, ranging from Golf Channel to St. Jude Children's Research Hospital, as well as industries like engineering, higher education and workforce solutions. He can be reached at
[email protected]
or www.linkedin.com/in/chris-lewis-aa301b14.
Follow Robotics 24/7 on Facebook
Article topics
Email Sign Up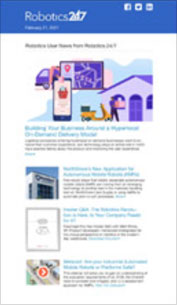 Get news, papers, media and research delivered
Stay up-to-date with news and resources you need to do your job. Research industry trends, compare companies and get market intelligence every week with Robotics 24/7. Subscribe to our robotics user email newsletter and we'll keep you informed and up-to-date.