Exchange-traded funds, or ETFs, are one way of measuring the financial activity in a specific sector, such as robotics. Earlier this month, Indxx announced the licensing of its Indxx US ETF Industry Top 10 Index to South Korea-based Samsung Asset Management. The index will serve as the underlying benchmark for the KODEX US ETF Industry Top10 Indxx ETF, said Indxx.
"In recent years, ETFs have been the fastest-growing investment vehicle, and we expect this trend to continue as more investors seek ETFs for their simplicity, cost-effectiveness, and transparency," said Rahul Sen Sharma, managing partner at Indxx, in a release. "In light of this trend, we are extremely pleased to announce the introduction of an ETF that is the first of its kind in South Korea and gives exposure to U.S. firms that are at the forefront of the rapidly growing ETF market worldwide."
Founded in 2005, Indxx said it delivers award-winning, innovative, and custom indexing and calculation to the investment management community. The firm has offices in New York, Miami, and across India.
Licensed ETF index to track financial data
The new Top 10 index (IUET10T) is designed to track the performance of financial companies that issue passive financial products, create market indices, provide financial data, and operate regulated exchanges for financial market participants. The index is divided into the following sub-themes: ETF Issuers, Index Providers, Exchanges, and Financial Data Providers.
"We are excited about our product-line expansion and thrilled to launch the US ETF Industry Top 10 Index with Indxx, stated Dunam Kim, CIO at Samsung Asset Management.
"We expect to be able to offer more innovative investment solutions in Korea through this close collaboration," Kim said. "The KODEX US ETF Industry Top10 Indxx ETF will provide investors with exposure to companies not easily accessible that are leading the charge in the ETF space."
Indxx discusses robotics market
Sharma spoke with Robotics 24/7 about recent developments in the robotics space and how investors and startups can be ready for volatility. The companies cited are examples and not specific recommendations for investment.
Since we last spoke, concern about market conditions has continued. How has that affected Indxx?
Sharma: We're in a unique time. We haven't had this level of uncertainty and interest rates in a decade.
In our business, we build indexes for issuers, and they build products. They've been waiting because of the debt crisis, but some are entering bull market because of S&P [Standard and Poor's 500] performance.
There are some green shoots in aggressive markets, such as Israel, South Korea, Europe, and hopefully the U.S., but volatility is not our friend.
How does the Indxx US ETF Industry Top 10 Index look at robotics and artificial intelligence?
Sharma: Samsung is interested, and South Korea in general has the world's highest robot density [number of robots per 10,000 workers].
We have a few Top 10 products, such as our U.S. Top 10 with Mirai, which is $1.2 billion. There's a simple Top 10 technology index on Nasdaq with some AI focus.
Every CEO says AI is the future. One and a half years ago, they would have said "the metaverse." It's not that AI isn't potentially revolutionary; people just tend to overstate how a trend is happening. Or, they forget that it was happening—we focus on ChatGPT 4 but not on ChatGPT 1 to 4.
Volatility is nobody's friend
In March, the Silicon Valley Bank (SVB) and Credit Suisse failures shook the robotics industry, especially since many companies had assets with them. Should we still worry?
Sharma: The SVB and Swiss bank failures introduced uncertainty. For us, it's difficult because people are less likely to launch new products and indexes. It has dampened things, along with high interest rates, debt ceiling disputes, and the war in Ukraine.
However, debtors had a reprieve, and retail banks are also receding as a threat. JPMorgan and the FDIC have stepped in. Think of the savings and loan crisis in the 1980s or the WaMu [Washington Mutual] failure in 2008; not a single investor lost a penny.
Markets are steadily trending upward, and inflation does seem to be moderating. Those are the goals of the Fed, along with full employment. The trillions injected into the economy during COVID-19 led to an inflationary effect, which could become intrinsic, but the central banks will have to see.
Was Shopify's sale of mobile robot company 6 River Systems to Ocado (itself said to be up for purchase by Amazon.com) a sign of weakness in certain segments?
Sharma: Supply chain issues were a big problem during the pandemic, as well as high demand from consumers. Home delivery had become critical, and then there were shortages on the worker side.
You'd think that supply chains and warehousing would already be automated, but at least 50% in the U.S. is largely manual. Coupled with e-commerce demand and worker shortages, you'll have serious problems. Our team saw during COVID that a lot of these companies have been investing heavily in automation.
Now we have haptic sensors and companies like FANUC, Honeywell, Omron, and Yaskawa rolling out robotics. And there's more autonomous technology coupled with 5G, whose low latency can help supply chains. It's like working from home—a tech-based shift in the economy.
Our robotics and AI index is tracked by the largest ETFs in the world. Global X funds has an ETF launched with clients in Australia, Europe, and Japan. People are realizing it's a big deal.
Deloitte expects the value of the whole segment to have a CAGR [compound annual growth rate] of 17.5% over the next five years—that's more than doubling in that time. It's the same with warehouse robotics at 12%.
Looking at leading-edge tech
What industries are most interested in investing in robotics?
Sharma: Food and beverage demand is driven by worker shortages and concerns about health and safety.
I saw a recent article citing the FDA that said 35% of food-borne illness outbrakes were due to workers who came in sick. The U.S. dosn't have paid sick leave, and robotics and automation can increase health and safety, improve standardization, and increase throughput.
But a lot of mass production of packaged foods is also happening in Asia and Europe. Japan is at the forefront of technology, with graying populations.
What technology advances are you watching?
Sharma: Mechanical, 5G, machine vision, and haptics. Robots are starting to be able to pick up an egg. The ability to grasp objects and understand the differences is also improving.
Robotics and AI have only now burst into the public consciousness. Think of the recent 60 Minutes profile of Boston Dynamics. And then there's blockchain, the metaverse, and Apple coming out with virtual reality.
Speaking of public awareness, what about humanoid robots?
Sharma: Some things are closer than people expect. You get initial forays into the public consciousness, and then they start coming back.
A fully autonomous home robot to take care of you is further off than what's already in nursing homes. The PARO seal is already improving people's daily lives—it's a simple product, but it works.
Tesla is good from an AI perspective, but robotics is already happening in more places than people would expect.
Waiting for a rebound
After a slowdown in venture capital funding, is a burst of activity coming? If so, where?
Sharma: I hope so. In 2020, things were quiet from March to September, and then there was a burst.
Indexing is a rapidly growing space. We serve ETF issuers. With the massive change in medical technology, we've built some indexes lately in healthcare, medicine, and biotech.
There's also luxury goods. Bernard Arnault is the richest man in the world, powering the world economy, especially in the U.S., where consumer spending is 70% of GDP.
Don't forget hospitality. I was in Korea in October and just in Paris. I saw robots in malls and cleaning hotels, and I expect to start seeing more in the U.S. This frees up people to do more high-value work.
Indxx also has a Global Robotics & Artificial Intelligence index. What challenges does that focus on?
Sharma: It focuses on industrial automation, non-industrial robotics, and on AI and unmanned vehicles and drones.
Last-mile problems are tough for autonomous vehicles. There are a few core issues that will take time and effort to solve.
From an AI perspective, people don't really understand how they do what they're doing. You have to constantly train them.
Even when feeding these systems data, they can go off the rails. Lots of people are training AI to get the right answers. It's like the human brain, which is still a mystery.
But things are improving. For example, ChatGPT has gone from the tenth to the 90th percentile on the bar exam.
About the Author
Eugene Demaitre
Eugene Demaitre is editorial director of Robotics 24/7. Prior to joining Peerless Media, he was a senior editor at Robotics Business Review and The Robot Report. Demaitre has also worked for BNA (now part of Bloomberg), Computerworld, and TechTarget. He has participated in numerous robotics-related webinars, podcasts, and events worldwide. Follow Eugene:
Follow Robotics 24/7 on Facebook
Article topics
Email Sign Up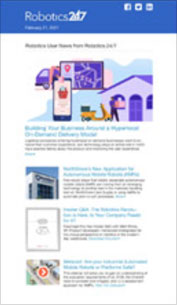 Get news, papers, media and research delivered
Stay up-to-date with news and resources you need to do your job. Research industry trends, compare companies and get market intelligence every week with Robotics 24/7. Subscribe to our robotics user email newsletter and we'll keep you informed and up-to-date.
Indxx