OSARO Inc. today announced that it is integrating its pick-and-place robots with Geekplus Technology Co.'s warehouse automation. The new allies said they will offer businesses a "one-stop solution" and a strategy to boost the return on investment of their autonomous mobile robots, or AMRs, and automated storage and retrieval systems, or ASRS.
"At OSARO, our goal is to provide reliable robotic systems that make automation easy, which is why the seamless integration of our picking robots with Geek+ systems is so valuable for quick and easy deployment," said Derik Pridmore, CEO of OSARO, in a press release. "We're pleased to have an OSARO-powered robot and Geek+ Sorting Series AMRs available for customers to see in action at our San Francisco RobotWorks customer center."
The companies have been working together for about two years, said Tracy Perdue, vice president of sales at OSARO.
OSARO supports e-commerce with G2R systems
OSARO said it delivers piece-picking systems for e-commerce, where key challenges include high SKU inventories, complex packaging, and fragile items. The company added that it offers low-risk business plans and Hypercare support, from concept exploration to onsite installation.
San Francsico-based OSARO added that its robots, machine vision, and control software enable goods-to-robot (G2R) use cases. It uses a FANUC robot arm to automate picking and placing, a task that human warehouse associates have traditionally handled.
The company recently launched the OSARO Robotic Kitting System for the assembly of subscription kits.
"Recurring subscription product kits have become increasingly popular with consumers," Perdue told Robotics 24/7. "E-commerce retailers have embraced this trend because kits can grow revenue and increase sales of slow-moving items. Subscription kits also provide improved revenue predictability and inventory management."
"This new wave of direct-to-consumer online subscription companies is an exciting segment for OSARO because of the need for kitting," he said. "In addition to these DTC [direct-to-consumer] e-commerce businesses, most retailers and/or their 3PL [third-party logistics] partners typically have a kitting operation within their fulfillment centers."
Geek+ addresses labor shortages
Interest in warehouse automation, including picking systems, has been accelerated by the triple challenge of e-commerce demand, the most severe labor shortage in 53 years, and consumer expectations for lower prices and faster delivery, noted OSARO.
The partners said they will jointly deploy scalable systems that can improve accuracy and productivity while keeping costs low, despite inflation. Geek+ said that unlike conventional fixed conveyor systems, its mobile robots are easy to install or reconfigure, needing only moveable QR code floor marks to operate.
"Solving the labor shortage is critical for anyone in e-commerce today," stated Rick DeFiesta, executive vice president of sales and solutions at Geek+ America. "Geek+ systems take less floor space and are highly flexible in both their use and installation, allowing for easy redeployments in new configurations when necessary."
In addition to AMRs, the joint offering will complement Geek+'s ASRS products, said Perdue.
"The Geek+ Robo Shuttle, Four-Way Shuttle, and Pop Pick solutions are in fact all examples of automated storage systems," he said. "They provide high-density storage and retrieval, while OSARO augments the picking and packing by turning the goods-to-person [G2P] picking station into a GTR picking station."
"OSARO can pick from virtually any ASRS in the same way," he added. "This agreement with Geek+ is about automating the final step in the fulfillment process, and gives the customer a one-stop solution that de-risks the project."
Founded in 2015, Geek+ said it applies robotics and artificial intelligence to logistics and supply chain management. The company, which has offices in Beijing and San Diego, has more than 1,500 employees worldwide and said its AMRs helped pick 10 billion items in 2022.
REST API connects automation
OSARO and Geek+ said that the ability to connect their systems represents a new step in the progression of warehouse robot collaboration. OSARO said its REST API allows for easy interoperability between its AI-driven picking robots and Geek+'s AMRs and ASRS.
The API allows integrators to choose commands in a variety of blocks, so that actions can readily be strung together in different ways, said the company.
For example, a system can be directed to pick, scan, and place an object. Or, it can be ordered to pick, scan, and then wait for a customer warehouse management system (WMS) to send a command before performing an additional action.
The types of goods picked will vary, said Perdue.
"We see the most interest in cosmetics, toys, food and beverage, health, baby goods, fashion, and pet products," he explained. "The common thread here is that wide array of SKUs and the need for a robot capable of identifying the right SKU and then picking and placing it."
"In these situations, OSARO's advanced computer vision and machine-learning capabilities, combined with Geek+'s industry-leading G2P and sorting systems provide a winning combination," Perdue said.
Partners demonstrate scalability, flexibility
OSARO is now demonstrating integrations with the Geek+ Sorting Series in its San Francisco RobotWorks Customer Center. The company said customers can experience benefits including:
Increased throughput
Reduced dependence on labor
Faster order processing
Greater shipment accuracy
Improved return on investment (ROI)
A scalable solution for changing needs
Less need for floor space
What would an integration between Geek+ and OSARO's technologies look like?
"One example is OSARO picking to and from the Geek+ Sorter Series robots," Perdue replied. "Another example is OSARO picking from either a Geek+ Roboshuttle or new Pop Pick system. Both are prime examples of how the two technologies combine to provide value for the customer."
"OSARO's ability to pick directly from the Geek+ robots and place the item directly into an OSARO Robotic Auto-Bagger delivers additional value to the customer," he claimed.
Geek+ and OSARO plan to announce their first joint customer soon.
"Geek+ already has a large G2P system running at a major e-commerce company; OSARO will be deploying our Robotic Auto-Bagging system at this site," said Perdue. "This customer is a big win for OSARO, and we're aiming to provide additional integration of OSARO with Geek+ systems at this facility."
OSARO Partners Alliance offers domain expertise
As part of the agreement, Geek+ has joined OSARO's partner program, a "one-stop shop" for businesses looking to deploy robots in their fulfillment operations. The OSARO Partners Alliance provides a mechanism for AMR and ASRS vendors, integrators, distributors, 3PLs, and consultants to collaborate and co-market unified systems.
The program is designed to optimize each stage of a customer's purchasing and deployment processes with help from the partners. Tailoring automation to tackle supply chain disruptions and mitigate labor shortages requires a collaborative approach that includes software, hardware, and materials-handling experts with deep domain experience, said OSARO.
It added that the alliance fosters a community where participants can share knowledge and resources to support their mutual clients as they evolve their supply chain capabilities. Interested parties can also set up a consultation with OSARO's solutions team.
About the Author
Eugene Demaitre
Eugene Demaitre is editorial director of Robotics 24/7. Prior to joining Peerless Media, he was a senior editor at Robotics Business Review and The Robot Report. Demaitre has also worked for BNA (now part of Bloomberg), Computerworld, and TechTarget. He has participated in numerous robotics-related webinars, podcasts, and events worldwide. Follow Eugene:
Follow Robotics 24/7 on Facebook
Article topics
Email Sign Up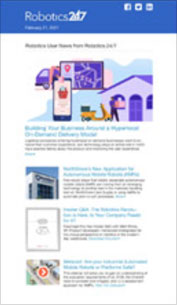 Get news, papers, media and research delivered
Stay up-to-date with news and resources you need to do your job. Research industry trends, compare companies and get market intelligence every week with Robotics 24/7. Subscribe to our robotics user email newsletter and we'll keep you informed and up-to-date.
OSARO