Teleo Inc. today announced deals with three customers for remote-operated wheel loaders, bulldozers, and dump trucks. The company also announced that it is expanding globally through a new dealer partner network across the U.S., Europe, and Canada.
Construction and mining work requires skilled labor and is physically demanding and often dangerous, noted Teleo. According to the Associated General Contractors of America, 91% of construction firms are having a hard time finding workers to hire, driving up costs and delaying projects.
To address this issue, Teleo said it is introducing an incremental approach with Teleo Supervised Autonomy, which enables remote and semi-autonomous operations of any make and model of heavy construction equipment. With this technology, one operator can control multiple machines from the comfort of a command center, said the Palo Alto, Calif.-based company.
"The construction industry is experiencing a growing skilled labor shortage," stated Vinay Shet, co-founder and CEO of Teleo. "We founded Teleo to help contractors supercharge their operators' efforts by turning their equipment into semi-autonomous machines."
"By moving the operator out of the cab of the machine and into a command center, we're also making the operator's role safer, comfortable, and more accessible," he added.
Teleo offers teleoperation on the way to full autonomy
Full autonomy, which doesn't require any human intervention, is still many years away for the construction industry and many others, noted Teleo. The company said its supervised autonomy technology enables operators to remotely perform complex tasks to provide value for contractors today rather than many years from now.
Teleo's offerings include its proprietary software, a universal retrofit kit customized for any machine, and a remote command center to operate the equipment. It also offers a robust mesh network to connect the command center with the machine.
The universal retrofit kit is designed to withstand harsh construction equipment conditions such as thousands of hours of heavy vibrations. The kit incorporates sensors such as high dynamic range cameras for high-definition visibility and video footage both day and night, said the company.
Teleo said its technology brings the sound and feel of the machines to skilled operator in a remote command center as if they were operating them in person.
Company touts technology benefits
Teleo Supervised Autonomy can provide construction companies the following benefits, said Teleo:
Attracting more operators: By transitioning these roles from the field to a remote command center, Teleo said it creates a safe and comfortable work environment. This makes it easier to recruit, train and deploy skilled employees, while also making the job more accessible to newer generations.
Increasing site productivity: Multiple machines, across multiple sites, can be controlled by one operator. Productivity is increased by having one operator location rather than multiple, which creates less machine downtime between breaks and shift changes on large sites, the company claimed.
Enhancing operational visibility: With the Teleo Insite data and analytics platform, Teleo said it offers customers access to metrics that will continuously improve job site productivity.
Driving down costs: Operating construction sites is increasingly expensive. The Teleo system offers customers payback in less than a year. The company said its technology also protects against machine damage and wear, property damage, and operator error, all of which drive up costs.
Increasing safety: By working from the protected environment of the remote command center, operators are removed from harm's way.
Teleo Supervised Autonomy combines skilled labor with robotics
"Progress in autonomous vehicle technology has been steady but has failed to have a meaningful impact," said Shet. "In order for this technology to have an impact today, the problem must be constrained."
"With its controlled environments, the construction industry provides the ideal match for what is technically feasible and the urgent pain points that the contractors are facing today," he said. "Teleo's Supervised autonomous technology enables companies to realize value now, rather than waiting several years for full autonomy."
Shet and Chief Technology Officer Rom Clement founded Teleo in 2019. Both of them led led autonomous vehicle teams at Lyft and helped develop Street View and other technologies at Google. At Teleo, they lead a team with decades of technology and construction industry experience from companies such as Tesla, Amazon, Zoox, BAE Systems, and Topcon.
Teleo is backed by UP.Partners, Trucks Venture Capital, F-Prime Capital, K9 Ventures, and YCombinator, among others. Later this year, the startup plans to launch semi-autonomous operations in addition to its remote operations offering.
Contruction partners plan for more deployments
Tomahawk Construction
Fort Myers, Fla.-based Tomahawk Construction has partnered with Teleo to deploy its technology on 12 articulated dump trucks for land development of residential subdivisions, a retirement community, and commercial businesses. The remotely operated trucks will haul dirt across a job site, and the excavation and site developer said the trucks will help it run more efficiently despite the labor shortage.
"We have had two trucks sitting around for 10 months without operators in them," said Scott Lyons, managing member at Tomahawk Construction. "With Teleo, more people will be attracted to this job because they can run trucks from our office and save hours of drive time to and from job sites."
Tomahawk said it expects to begin remote operations this summer with two machines in Naples, Fla. It plans to transition to semi-autonomous operations later this year.
Teichert Materials
Pleasanton, Calif.-based Teichert Inc. is a construction and materials company in business since 1887. It is working with Teleo to retrofit two bulldozers.
Teleo delivered its first retrofitted machine, a 2012 Caterpillar D10T bulldozer, to Teichert in the summer of 2022. The second machine, a 2022 Caterpillar D10T2 bulldozer retrofitted with Teleo Supervised Autonomy technology, will be deployed on site for work in the second quarter of this year at the company's sand and gravel mine near Tracy, Calif.
"We believe Teleo's technology can help a good operator become a great operator," said Dan Campbell, head of engineering at Teichert Materials. "The technology will improve the operator experience, making the job safer and more comfortable for our team members. The central command center also makes it easier for operators to go on breaks and creates a seamless and efficient transition between shifts."
Teichert will be the first Teleo customer to launch night operations, said the companies. The machine will be used to remotely push sand and gravel to an on-site processing plant. The companies said they expect to retrofit more machines with Teleo's technology.
John Aarts Group
London, Ontario-based John Aarts Group is the first company to virtually load a concrete plant via teleoperation, said Teleo. It intends to retrofit a John Deere 624K wheel loader to remotely load and unload materials in Tillsonburg, Ontario, starting in the second quarter.
Loading and unloading typically includes a lot of stop-and-go work, which results in significant unproductive time. Teleo said its system allows operators to focus on higher-impact work.
"Our goal with introducing Teleo's autonomous technology is to further support our team," said Ryan Aarts, CEO of John Aarts Group. "There is more work to be done than there are operators, and Teleo is helping us to create opportunities for team members to do more of the meaningful work they like to do."
Teleo expands globally through dealer network
"It is not enough to build great technology, but it needs to be backed up with a strong support network," said Teleo. The company said its dealer partner network installs its system, ensuring successful integration.
In addition, the trusted dealers provide ongoing support, operator training, and warranty management to maximize uptime for contactors, Teleo said. It named the following companies in its launch of its global dealer network:
Dobbs Positioning Solutions
Dobbs Positioning Solutions is a Topcon dealer and the technology division of Dobbs Equipment, a full-service John Deere and Wirtgen Group dealership serving Florida, Alabama, Georgia, and South Carolina. Dobbs Positioning Solutions and Dobbs Equipment serve the the residential and commercial construction, site development, underground, road building, aggregate and mining industries.
Recently, John Deere Construction and Forestry Division named Dobbs Equipment as a 2022 winner of its Onyx Circle award for the fourth consecutive year. The award recognizes the top-performing John Deere dealers in the U.S. and Canada. Dobbs Positioning Solutions supports Tomahawk Construction's order and implementation of Teleo-retrofitted dump trucks.
RDO Equipment
Founded in 1968, RDO Equipment Co. sells and supports agriculture, construction, environmental, irrigation, positioning, and surveying equipment from manufacturers including John Deere, Vermeer, and Topcon.
Fargo, N.D.-based RDO has more than 75 locations across the Midwest, Texas and Southern California, offering the latest machinery, including Teleo Supervised Autonomy. All equipment and technology are backed with parts, service, and full support, said RDO.
SMS Equipment
SMS Equipment Inc. said it is one of the largest Komatsu dealers in the world, with a network of business centers across Canada, Alaska, and Mongolia. It supports heavy equipment sales, parts, service, and advanced technologies in the construction, mining, and forestry industries.
The Fort McMurray, Alberta-based company said it has expertise job sites in extreme conditions and in autonomous systems. It claimed that it has deployed some of the world's largest fleets of self-driving mining haul trucks. SMS Equipment is supporting Teleo's regional deployment and the customer relationship with John Aarts Group, with several other pending customers.
SR-O Technology
SR-O Technology is the technology and system integration business unit of Suomen Rakennuskone Oy. The Finland-based company provides machinery automation, fleet management, data analytics, and wireless network solutions.
SR-O Technology has a long-standing history of providing first-quality, innovative, technology solutions to the mining and construction industry. It serves customers across Europe, North Africa, and the Middle East.
Teleo to exhibit at CONEXPO
Teleo will demonstrate its technology in Las Vegas at CONEXPO from March 14 through 18 at Booth D3801 in the Diamond Lot. Its exhibit will include two remote-operation stations.
One station will control an on-site skid-steer loader, and the other will control a skid-steer located at a site in Northern California.
Article topics
Email Sign Up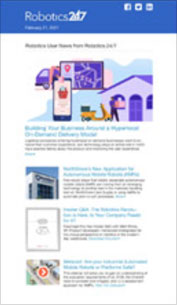 Get news, papers, media and research delivered
Stay up-to-date with news and resources you need to do your job. Research industry trends, compare companies and get market intelligence every week with Robotics 24/7. Subscribe to our robotics user email newsletter and we'll keep you informed and up-to-date.
Teleo