Top 20 Systems Suppliers
This top 10 list, taken from Modern Materials Handling's 23rd-annual Top 20 Systems Suppliers list illustrates an industry at the top of its game, clearing previous records with ease. When we revisit the list next year, the impacts of the Covid-19 pandemic will likely be evident.
However, since the crisis has made the supply chain's critical importance abundantly clear, these companies have every chance to continue to perform well.
The art and science of managing disruption have driven the last decade of innovation, and the industry must now lean into the biggest disruption in generations.
Before Covid-19, the materials handling industry was healthy, according to Norm Saenz, managing director at consulting firm St. Onge, who notes that the Top 20 companies remained largely in the same order and many showed gains.
Following two years of double-digit growth, the list's combined revenues grew 7.3% in 2019 to more than $23 billion.
Norm Saenz, managing director at consulting firm St. Onge:
"This is what we were seeing over the last year, as many companies looked to automation to deal with surging e-commerce volumes, increasing SKUs and a shortage in the labor force. Although many projects will continue through the crisis, others were and might remain in a wait-and-see mode. Coming out of this pandemic, we expect companies to rebound and possibly spend more to automate their operations. This optimistic outlook depends on the health of companies emerging from the pandemic and the amount of capital spend available for projects."
Top 10 System Suppliers
Daifuku is still No. 1 on the list, reporting more than $4 billion in revenues for 2019. Although the figure is slightly less than the previous year, it follows double-digit gains contributing to three-year growth of 37%.
Stuart Oliphant from Daifuku's corporate communications department:
"While Daifuku is experiencing an increase in projects from the e-commerce sector and an increase in sales in line with the larger-scale systems being requested, at the same time sales also reflected the impact from the downturn in investments in the semiconductor and flat-panel sectors."
In 2019, Daifuku acquired Vega Conveyors & Automation Private Ltd. Founded in 1999 and employing 73 people as of March 2019, the company provides conveyor and other materials handling equipment design, manufacture, installation and after-sales service. Daifuku also acquired Netherlands-based Scarabee Aviation Group B.V. and Australia-based Intersystems (Asia Pacific) Pty Limited. Revenue from the acquired companies are not included in the current fiscal year results.
Schaefer Systems International (SSI) was unable to report revenues by press time, so its 2018 figures have been carried over to comfortably retain second place.
Following its acquisition by forklift and logistics leader KION Group in late 2016, Dematic is now a supply chain solutions operating unit of KION. The unit includes Dematic as well as Egemin, an automated industrial vehicle specialist that previously placed 18th on this list and was acquired by KION in 2015.
Dematic again placed third with $2.7 billion in revenues. Growing more than 13% year over year, the company has achieved a three-year revenue increase of 32%.
On last year's list, Honeywell Intelligrated climbed from sixth to fourth, where it sits with an estimated $1.8 billion in revenues - more than double from three years ago. The number is based on the warehouse automation division of Honeywell's Safety and Productivity Solutions business.
Pieter Krynauw, president of Honeywell Intelligrated, says the company continues to see strong growth in the warehouse automation sector. In 2019, the company released an autonomous robotic unloader that uses artificial intelligence to unload. It also released its Connected Assets offering, which builds on its connected distribution center infrastructure. The solution accumulates data on equipment and system health provide operators with the real time status and historical insights into a sortation system's overall performance.
In the fourth quarter of 2019, the company formed Honeywell Robotics, an advanced technology center focused on developing artificial intelligence, machine learning, computer vision and advanced robotics for use across supply chains.
Pieter Krynauw, President of Honeywell Intelligrated:
"Increasing consumer expectations for fast, accurate delivery are driving an evolution in the way retail distribution center operations are conducted. To stay competitive, DCs must adapt to the seemingly unlimited pace of change in e-commerce."
Although it gained only one spot as a result, Murata (Muratec USA) posted the highest annual growth rate, increasing revenues by 34% to tie Honeywell Intelligrated in the fourth spot with $1.8 billion. A spokesperson says the Japanese market was extremely active this year in the logistics automation market and especially with respect to a large number of manufacturing automation projects.
In sixth place, Vanderlande's revenues climbed 10.5% to $1.7 billion. Shortly before publication of the 2017 Top 20 list, Toyota Industries Corporation (TICO) acquired the company. Following TICO's 2017 acquisition of the then 16th place Bastian Solutions, Vanderlande became the second business to join TICO's new business division called Toyota Advanced Logistics Group (TALG), which manages North American activities in the area of logistics solutions.
Knapp reported $1.37 billion in 2019 revenues, an increase of more than 30% and enough to maintain a firm hold on seventh place. It's one of three companies on the list to have doubled revenues in three years.
Kevin Reader, director of business development and marketing for Knapp, says the company has experienced significant expansion in new business bookings from market leaders in healthcare, retail, grocery and e-commerce sectors. He also emphasized development of solutions for the digital supply chain that leverage Big Data, predictive modeling, analytics and artificial intelligence.
Kevin Reader, Director of business development and marketing, Knapp:
"Knapp continues to invest 7% annually in R&D, and has also committed to major projects across virtually all Knapp subsidiaries in the areas of personnel, production capacity and technology to meet the growing demand for our supply chain solutions. This growth includes the recently completed expansion of U.S. facilities in Kennesaw Ga., driven by a three-year 404% growth in the North American market."
Holding eighth place in the list's competitive mid-field, Beumer improved upon 2018 revenues by growing 10% to finish with $1.1 billion. "2019 was another year of positive growth for Beumer Group, with record order intake and revenue," says Uwe Kinski, CFO of Beumer Corp.
Rising to No. 9, Material Handling Systems (MHS) debuted on last year's list at No. 10. It has since grown revenues by more than 16% to cross the $1 billion mark. MHS business units include Parcel North America, Lifecycle Performance Services and research and development offices in Mount Washington, Ky., as well as distribution and fulfillment offices in Atlanta.
MHS acquired control system integrator Atronix in November 2017, global integrator VanRiet in May 2018, materials handling equipment integrator A2i in July, and sortation specialist OCM in August 2018. In early 2020, the company launched MHS Insights, a condition-based maintenance solution that monitors assets through IoT sensors and system data.
John Sorensen, senior vice president of Lifecycle Performance Services for MHS:
"By not leveraging data, warehouses and distribution centers miss significant opportunities to reduce downtime and make their service operations more effective and efficient. MHS Insights is designed to address this deficiency by combining data and analytics to provide precise, timely maintenance insights."
Rounding out the Top 10, Swisslog's revenues stayed level at $922 million. Christian Baur, CEO of Swisslog, says the company has organized around two business units.
The first is an e-commerce/retail business unit implementing advanced goods-to-person technologies like Swisslog's CarryPick mobile robotic solution, Cyclone Carrier shuttle system, AutoStore and ItemPiQ single item robotic picking solution, which can be integrated with those goods-to-person systems.
Swisslog's second business unit focuses on consumer goods, particularly pallet handling in food and beverage applications with its Vectura pallet stacker cranes, PowerStore pallet shuttle systems, and ACPaQ mixed case palletizing robots. Although roughly 30% of the Swisslog Group's revenue is generated by Swisslog Healthcare, Baur says that business has recently become a separate brand and entity.
Christian Baur, CEO of Swisslog:
"Swisslog's growth can be attributed to a clearly defined strategy, which is to shape the future of intralogistics with flexible, robotic and data-driven automation and software that delivers exceptional customer value."
Related White Paper
Finding the Single-Source Supplier for the E-commerce Supply Chain
The combination of e-commerce pressures and labor challenges conspire to make the modern DC increasingly complex and reliant on carefully planned automated systems. Download Now!
Article topics
Email Sign Up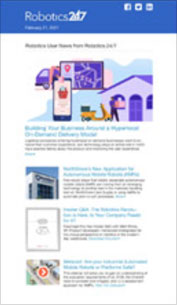 Get news, papers, media and research delivered
Stay up-to-date with news and resources you need to do your job. Research industry trends, compare companies and get market intelligence every week with Robotics 24/7. Subscribe to our robotics user email newsletter and we'll keep you informed and up-to-date.