Much of the effort in improving robotic perception has been in computer vision, but the sense of touch is just as important for manipulation and teleoperation. Touchlab Ltd. has been developing flexible sensors that it said are less bulky than others on the market and could enable new applications.
"At Amazon's re:MARS conference in 2019, Jeff Bezos said that people 40 years ago thought that the hardest challenges would be in artificial intelligence and machine learning," recalled Zakareya Hussein, CEO of Touchlab. "Many of those have been addressed, but grasping is still hard."
"We were approached by clients trying to solve the grasping problem," he told Robotics 24/7. "We're aware that physical robots are the future and looked the tiger in the eye. With electronic skin, we can enable robots to pick and place fresh produce."
Why touch matters
Robotics designers have taken multiple approaches to the challenge of manipulating small, irregular, or fragile objects, Hussein said.
"The soft robotics approach only works with certain grasps, and you need a feedback loop for complex manipulation," he said. "We can add our sensors to hard or soft robots. This provides a huge advantage over most other sensing modalities. We can retrofit existing robot grippers with our e-skin for a huge number of warehouses."
Edinburgh, Scotland-based Touchlab is working with robot suppliers, as well as with prosthetics makers, said Hussein.
"Companies have approached us after trying other tactile sensors on the market," he said. "Other players such as SynTouch offer impressive capabilities, but their construction is complex and very rigid. Because their sensors are very expensive, they can do sensing only on the edge of the fingertip. To do sensing all over the hand, we can use biotactile sensors."
Touchlab goes for more modalities
How close are Touchlab's thin eDermis sensors to human senses? "Lots of sensor companies look at the problem in a primitive way," said Vasileios Mitrakos, senior electronic skin engineer at Touchlab. "Most sensors on the market have more or less contact in response to a rough estimate of forces."
"We have a different approach—we're developing sensors that are mass-producible and are able to accurately detect in a human range," he said. "We needed a module for the sensing operation that's really fast in responding. We're able to pick up large and small forces within an extended dynamic range."
"We're not only taking a qualitative approach with normal tactile forces; we're also pushing sensing modalities such as the direction of a pose," Mitrakos explained. "We're trying to attack the problem from all angles and provide valuable information that can be transferred and used for teleoperation and other applications."
"We're not just concerned with contact events," he added. "We're truly interested in true tactile sensation, which is quite difficult."
Haptics for teleoperation
Improving robots' sense of touch could also improve teleoperation, noted Touchlab's team. "At the moment, the robot is sensing more than the human," said Hussein. "We're in talks with HaptX."
"We're closer to providing robot sensing than being able to convey it to someone else. There's a bottleneck in how to feed the data, especially using third-party software," said Shayne Shaw, a robotics engineer at Touchlab. "We've tried a number of haptic gloves, but their ability is significantly smaller than what our sensors are able to perceive. We can get the feedback, but we can't convey the depth or sensitivity of what sensors can do—that side needs to progress as well."
"It's difficult conveying robotic sensing to the operator," he said. "We're bringing a new kit to do that, and getting it integrated and fine-tuned to be used for maximum effect. It will give the user a whole new idea of what's going on."
"We played around with the idea of AI assistance for slip detection," added Shaw. "There are two types of sensors—one is a true pressure sensor that can sense pressure and location, like human skin. The second can do 3D forces, like force torque, at the point of cotact. That's a real game changer."
Tradeoffs for robotic touch
Is there a tradeoff between robotic touch sensitivity and durability?
"It's a matter of application," replied Mitrakos. "We're confident that our sensors can withstand tens of thousands of cycles, and we're pushing forward on even higher. Also, sensors can compensate over time, and we've looked at self-healing circuits, but that technology hasn't gone too far yet."
"A reasonable time for many warehouse applications is 1 million to 20 million cycles, and our sensors are extremely easy to replace and retrofit," he said. "One of the main things to maintain our price point is that we have a bottom-up approach to design."
"We use composite materials that are complex in structure, but they enable the use of screen printing rather than photolithography and microfabrication," he said. "We looked into additive manufacturing and screen printing, which eliminate the need for a clean room and are nonrigid compared wth traditional silicon."
"We have a close relationship with one retailer, which was looking for purpose-built sensors for its 54,000 SKUs, some of which are highly dependent on grasp," said Hussein. "It is pushing the boundaries for tactile manipulation more than any other warehousing company."
Touchlab is ANA Avatar XPRIZE finalist
Touchlab was recently named one of the 15 finalists in the ANA Avatar XPRIZE, in which competitors are developing means for people to transport their presence over distances.
"When the XPRIZE competition to make more intuitive telerobotic systems came along, we realized that one of the big things missing is haptics," said Hussein, who is captain of the team. "You need an accurate sense of touch to do some dextrous tasks. Telerobotics is the perfect example. Skin is the largest human organ, and there's a need for immersion and control."
"We're in a good spot," said Shaw. "We've had quite a few pieces come together, but they still need to be fully integrated. Our biggest concern was travel restrictions."
From pandemic shutdowns to outer space
"During the pandemic, Touchlab raised a pre-seed round. The company could hire team members and work on the avatar project, but we did have to shut down the hardware lab for four to five months," noted Hussein. "We're now sharing space and are open on a limited basis."
"Our short-term goals are to further optimize the sensor technology, integrate the components we have, and increase capabilities for mass production," Mitrakos said. "We also want to meet the demands of customers for better performance and accuracy and provide a cost-effective platform."
"Medical, nuclear, and space are the markets we're looking at," said Hussein. "There are lots of other applications for e-skin beyond robotics, but we have to stay focused."
"We'll have a pilot in Helsinki in 2022 having clinicians teleoperate a robot to minimize hospital-related infections," he said. "We're reaching out to a lot of commercial clients, as well as NASA and the European Space Agency."
"We're also looking at the nuclear decommissioning sector, where we identified some important use cases, such as the sorting and segregation of nuclear materials," Hussein said. "All nuclear-powered countries have environmental challenges with waste. In the U.K., the Sellafield project, at $100 billion to $120 billion, is the biggest environmental project in Europe."
About the Author
Eugene Demaitre
Eugene Demaitre is editorial director of Robotics 24/7. Prior to joining Peerless Media, he was a senior editor at Robotics Business Review and The Robot Report. Demaitre has also worked for BNA (now part of Bloomberg), Computerworld, and TechTarget. He has participated in numerous robotics-related webinars, podcasts, and events worldwide. Follow Eugene:
Follow Robotics 24/7 on Facebook
Article topics
Email Sign Up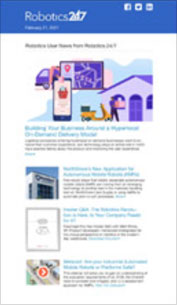 Get news, papers, media and research delivered
Stay up-to-date with news and resources you need to do your job. Research industry trends, compare companies and get market intelligence every week with Robotics 24/7. Subscribe to our robotics user email newsletter and we'll keep you informed and up-to-date.
Touchlab