One of the fastest growing areas of robotics is collaborative robots or cobots, which have sensors enabling them to work alongside people and are designed to be easier to program and use for a variety of tasks. Universal Robots A/S is the global market leader in cobots, and it has developed an ecosystem of accessory providers, systems integrators, and training programs to support its robot arms. Kim Povlsen, who became president and CEO of the Odense, Denmark-based company last year, has seen cobot technology mature.
Robotics 24/7 spoke with Povlsen about his background, how Universal Robots has weathered the COVID-19 pandemic, and the company's plans for innovations in 2022.
You came to Universal Robots from Schneider Electric—how familiar were you with robotics before becoming CEO?
Povlsen: I grew up in Odense and went to the University of Southern Denmark, where the whole cobot thing started. I'm a robotics engineer and studied at the same place as UR's three co-founders.
There wasn't that much of a robotics community when I was studying, but a lot of our professors were helping to launch startups.
When I was done with my studies, I went to Schneider Electric, where I worked for 13 to 14 years doing very different things. I moved from engineering to the "dark side" of business. I got to run the software business and strategy at an internal startup. I moved more and more into management roles.
I lived in France and the U.S. but was always keeping an eye on Odense. I'm passionate about robotics.
Early last year, there was an opportunity when [then-President] Jürgen von Hollen decided to leave. I was in contact with Teradyne [the owner of Universal Robots and other robot companies], and it was a good match.
80 sites around the world
The pandemic has dominated the news of the past two years—how has it affected an international business like Universal Robots?
Povlsen: Borders closed during COVID, but I'm proud to say that we successfully adapted and had a good year. The adaptation to digital was a lot of work, but it worked out really well.
We moved to Microsoft Teams, and more importantly, we engaged with our customers and support teams and showed them the cool things we do in automation. There's a desire to understand how it would look in their environments.
UR also had to move quickly to show customers cool innovations as we did at events. To that end, we now have 80 sites around the world that do training with our partners. We invited customers in, and fortunately, they rated it very highly.
The sites for training vary by country. Sometimes, Universal Robots opens its own UR Academy facility; other times, we partner. The countries that are open are still very busy—there's still a catch-up effect.
How much does UR use simulation tools in education or setup?
Povlsen: We had to develop online trainings that were very sophisticated. We had the technology in-house, and with simulations, we could do training online and see how something would look in reality.
We also have significant traction with the online version, which features full physics. With an acquisition, Universal Robots has software for making advanced robots even smarter. The simulation capabilities needed for real-time path planning can also be used for training.
Speaking of setup, how important is UR's network?
Povlsen: I want to give credit to our partners and distributors. They can do online prototyping, which is like a proof of concept in person, and they could 3D-print an object to show a customer how things would work.
With more than 300 UR+ partners, there's a multiplication of our engineering workforce.
For the future, we're taking online as an additional opportunity and turning it into a hybrid experience. Even if you're present at an event, we'll still have a virtual one. Our customers can get an omnichannel experience.
Products and applications
How has the demand evolved for Universal Robots' products?
Povlsen: Compared with a couple of years ago, when it was just automotive manufacturing, cobots are being used in a variety of solutions. SMEs [small and midsize enterprises] have really been getting into the game of automation. A few applications rise to the top.
One vertical that's really moving fast is robotic welding. A few years ago, a shop wouldn't consider a cobot, but it's now our fastest-growing vertical because of the versatility of our robots.
Some partners are really being innovative, and smart OEMs are developing standardized solutions and then helping customers with the last 10% of whatever they need to do. With open APIs [application programming interfaces], it's easy to do something specific, like a welding deployment program in the U.S. or Europe.
Another cobot application that's really getting traction is screwdriving. It sounds simple, but you have to be very precise. Customers set certain expectations.
What has the reception been to the e-Series cobots, which are designed to be more precise than their predecessors?
Povlsen: As we've seen across any tech sector, when products provide new features, they take some time to catch on. A platform product like ours take a while to find applications.
However, we can attribute our favorable financial results from recent quarters to all our UR+ products, as software, grippers, dispensers, and more become increasingly sophisticated.
Cobots have shifted from pick-and-place operations and machine tending to also being process tools.
With the e-Series precision and torque, plus partner software for welding and screwdriving, our partners are driving a lot of innovation with us.
Cobot awareness grows
Given the market potential, do SMEs have a greater awareness of the potential benefits of using cobots?
Povlsen: Yes, absolutely. We do our market analysis, and we know that there are tens of millions of tasks that people could do for more value-added work than the "3 Ds" [dull, dirty, and dangerous]. We're still just scratching the surface of what robotics can do.
The automation wave was happending even before pandemic. As business slowed down, it opened people's eyes to the need to automate. Labor shortages around the world are caused by a number of things—a lot of people are retiring, young people have different career choices, and a lot of people who did these jobs before have simply decided that they don't want to go back.
Small and big production firms are really struggling for workforce, accelerating the desire for automation quite a bit. Cobots are a good choice for SMEs that need to retrofit their operations for automation because it's not a huge project and is manageable.
When we get up in the morning, we think about how to remove friction for SMEs in any part of their automation journey. We spend a lot of time thinking about what we can do about that.
Scaling up and 2022 plans
How does Universal Robots plan to stay on top in the cobot market?
Povlsen: As Universal Robots gets to a larger size, we're keeping the spirit of a startup. We can pivot fast, with no fear of change.
We're investing more in innovation and in our ecosystem of partners that create components and software for customers. We've been spending a lot of time trying to understand customer challenges, from design to deployment and after. If part of a process changes, we're looking for how to make that smoother.
We've learned that the customer is not looking for a cobot; it's looking for an application that solves a challenge. We're embracing that perspective and making technology available for any given problem. For some SMEs new to automation, those customers are still challenged by picking a gripper. We're looking at how to make their choices easier.
UR is taking great strides in North America, following up with customers to ensure that their deployments were smooth, that they got what they expected. We understand the automation journey takes a leap of faith, so we want to make sure they're satisfied and that we're there to help make it work.
With a holistic view, I'm obsessed with the idea of removing friction from the customer experience. Automating should be a breeze once you decide you need it.
What are you looking forward to this year?
Povlsen: In 2022, we've got some cool new things coming out that people haven't seen before. We're making additional improvements to Universal Robots' manufacuturing facility, so we can build three times as many robots in the same space.
Hopefully, the world will reopen. I'd like to travel, and I can't wait to meet the company's teams.
We have very big growth ambitions. We have a lot of open positions and are adding a lot of people. It's challenging to find talent, but we're doing OK. This is an interesting industry, and it's fun to get into robotics.
About the Author
Eugene Demaitre
Eugene Demaitre is editorial director of Robotics 24/7. Prior to joining Peerless Media, he was a senior editor at Robotics Business Review and The Robot Report. Demaitre has also worked for BNA (now part of Bloomberg), Computerworld, and TechTarget. He has participated in numerous robotics-related webinars, podcasts, and events worldwide. Follow Eugene:
Follow Robotics 24/7 on Facebook
Article topics
Email Sign Up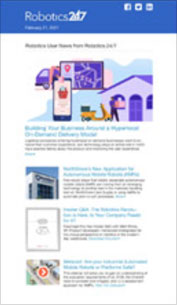 Get news, papers, media and research delivered
Stay up-to-date with news and resources you need to do your job. Research industry trends, compare companies and get market intelligence every week with Robotics 24/7. Subscribe to our robotics user email newsletter and we'll keep you informed and up-to-date.
Business Wire