Back in 2013, Medline Industries LP worked with Swisslog to become the first company in the U.S. to implement a robotic goods-to-person system from AutoStore. The original site was a 600,000-square-foot distribution center north of Chicago in Libertyville, Ill.
That first deployment, featured in the June 2015 issue of Modern Materials Handling (a sibling publication to Robotics 24/7), sported 43 bots in a relatively small area plus four goods-to-person workstations. The robots managed 27,570 totes across 37,750 storage locations with throughput of up to 12,500 lines per day.
It was a bold move but even then, Medline was embracing high levels of automation technologies across its network, including numerous sortation technologies.
Fast forward, and one of the country's largest manufacturers and distributors of medical and surgical supplies is using 1,463 AutoStore robots across 18 sites, including 135 in a new facility in nearby Grayslake on a grid that measures 233 x 82 ft.
The robots, soon to expand with the addition of another 20, serve 12 workstations, a number that will soon expand to 13. The grid is at least four times the size of that original grid and is fully temperature controlled.
The 1.4 million-sq.-ft., state-of-the-art distribution center (DC) was built as a replacement for the Libertyville facility to accommodate Medline's continued, steady growth.
In some respects, it is a cookie cutter building: Like Gap Inc. and IKEA, Medline uses successful building designs for its new facilities. At the same time, each iteration builds on the lessons learned in those other facilities.
That's the case in Grayslake. A $140 million investment, it is referred to internally as the fourth-generation design and incorporates the lessons learned after nearly nine years working with AutoStore.
Some examples of this include:
Workstations close to the robots: In many AutoStore implementations, donor totes are picked on top of the grid and conveyed down a level to goods-to-person workstations. In the new Medline design, the pick stations are on the same level as the grid. According to Daniel Schwartz, vice president of engineering automation at Medline, that reduces the amount of conveyor and moving parts required by the system and reduces the robot travel time to and from the pick stations. Fewer moving parts reduces downtime and maintenance.

Two-way induction to the transport conveyor: In the original design, all totes traveled in one direction to exit the work area and induct onto the transport conveyor. Now they can exit in either direction, and there is an independent line for fulls and empties, which improves flow.
Picking to four totes instead of three: In the first implementations, order selectors picked from two donor totes into three order totes. Now, team members pick from two totes into four, with an enhanced batching algorithm.
Packing in the pick area: As is the case in many highly automated facilities, traditional packing is the bottleneck during heavy order periods. To smooth out the workload and manage the flow, Medline installed pack stations in the goods-to-person pick area so team members can also pack select low-cube orders during the busiest periods. That minimizes the backup in packing.
Temperature-controlled: The first AutoStore implementation was ambient temperature; temperature control was added later. The newest implementations, including Grayslake, incorporate fully temperature-controlled grids.
The LEED-certified facility was designed to be energy efficient and employee friendly to help meet goals around sustainability and employee retention.
"This is our flagship facility," said Steve Miller, the executive vice president of supply chain who joined Medline from Walmart in late spring 2022. "But it's also part of our broader network."
He added that since 2018, Medline has invested $2 billion across the network to provide superior customer service, with another $400 million in nvestments planned for the near future.
Thinking inside and outside
A global manufacturer and distributor of medical supplies and clinical solutions, Medline was founded in 1966 by Jim and Jon Mills. At the time, they had one small warehouse with one loading dock to distribute gowns, scrubs, and supplies to the healthcare industry.
The company's roots, however, date back to 1910 when A.L. Mills, the great grandfather of the current management team, began sewing surgeon gowns and nurse uniforms for Chicago-area hospitals.
Although it was acquired by private equity for $34 billion in October 2021, the company is still managed by the fourth generation of the Mills family. "We enjoy the benefit of being one of the largest medical suppliers in the country, but with the agility and speed of a family business," said Miller.
With headquarters in Northfield, Ill., the company has operations in 125 countries and territories. Medline's North American supply chain network includes a total of more than 40 distribution centers totaling more than 28 million square feet and a fleet of more than 1,500 trucks, including 200 parcel vans.
Nearly 80% of Medline's North American volume is delivered by its own fleet.
At least seven of the distribution centers have earned LEED certification. Along with order fulfillment centers, Medline also operates crossdock facilities near the ports to receive imported product and then redistribute it across the network.
All told, a little more than 10,000 team members work in logistics, including 8,500 working in the DCs and 1,600 private fleet drivers.
In addition to distributing products from its DCs, Medline is using the network to launch new business models, such as offering third-party logistics (3PL) services to manage customer-owned inventory and then deliver it back to the customer. Currently, more than 70 customers are using Medline as a 3PL.
While supply shortages have been garnering headlines over the last two years, Medline recently invested an additional $500 million in buffer inventory, bringing the total in-stock inventory to $4 billion.
"When it looked as if there might be a rail strike, we were able to send out a communication to our customers that we had the inventory and the fleet to take care of them," noted Brian Bevers, senior vice president of operations. That investment is spread across a portfolio of more than 300,000 unique medical products, 65,000 of which are manufactured by Medline.
As an early adopter of automation, Medline has in recent years been focused on technologies that maximize the cube of the building and therefore the sales dollars per square foot. "It's not unrealistic that 10 years from now, we'll have doubled what we're doing today," said Bevers.
AutoStore, as well as other types of automated storage and retrieval systems (ASRS), fits that strategy.
Medline took four years to develop new flagship facility
According to Kate Slattery, vice president of real estate and construction, planning for the new facility began in 2018.
"We had exceeded our ability to grow the business out of Libertyville," she noted. In 2019, Medline closed on the purchase of a site in Grayslake, Ill.
Construction continued through the pandemic in 2020.
"We were deemed an essential business and were able to maintain our schedule," Slattery added.
After completion of construction, it took another nine months to install the racking, conveyor, and automation. Medline began receiving product in April 2021 and by August 2021, it was shipping orders to customers.
In designing the building, Schwartz noted Medline aimed to create a common look and feel, In part, because each center services the entire continuum of health care. Differences, such as whether a building is an AutoStore facility, are driven by the amount of throughput required from a facility.
The new building is more than twice the size of the Libertyville DC.
"The most important learnings of each install continue to shape our designs; most importantly, we have developed a great, capable maintenance, engineering and operations staff," Schwartz said. "Having that subject matter expertise from working with AutoStore for nearly nine years and across more than 1,400 bots has been important."
He added that the Medline team is so comfortable with the system that it can estimate how many robots it'll need before it asks for a proposal.
Adopting the next AutoStore
Schwartz and Bevers said that Medline continues to investigate new types of automation for the future. The embrace of automation is driven by two factors: The first is the goal of delivering the perfect order every time; the second is labor scarcity.
"We have great metrics, but to get to perfection, we have to invest in systems," said Schwartz. "And the combination of an already scarce labor market and an increase in our e-commerce business means that we have to do anything we can to make picking and packing easier, faster and better."
As part of that $2 billion investment in network capabilities, the company continues to pilot and roll out new solutions. When and if they prove themselves, they become part of the overall solution available to the network of more than 40 facilities.
Even if a technology is not quite ready for a full-production environment, Medline said it is still testing it to understand where it may best fit down the road.
For example, in one building, Medline worked with Swisslog to install a robotic piece-picking arm at an AutoStore workstation. AutoStore delivers the tote and the robotic arm picks from the donor tote to order totes.
"The robotic arm is not yet as fast as a team member but can support our team as we use it for the easier, more repetitive SKUs," said Schwartz.
At another facility, order selectors are picking from Swisslog's CarryPick, a robot that delivers a shelving unit of inventory to a pick station, into a Tompkins Robotics tSort, which sorts the items to packing locations.
Down the road, the Medline team has plans to explore automated packing technologies and unit load automated storage and retrieval technologies.
In addition to the innovations with AutoStore, the Grayslake facility is using two autonomous fork trucks from Vecna: One vehicle shuttles pallets from receiving to a drop zone for long distance pallet movements in the vast distribution center; the other is used to transport empty totes.
As the technology improves, Medline expects to pilot autonomous reach trucks, especially for narrow aisle storage.
While it may be some time before those technologies are fully deployed across Medline's network, they reflect Medline's commitment to continuous improvement.
"The challenges of the last two years have ultimately had a positive impact on our strategy," said Slattery. "We are in the unique position of having incredible sustained growth, and that forces us to get ahead of the business needs in both our capacity and capabilities. Our supply chain is capable of serving customers better than ever."
That is echoed by Miller. "Our No. 1 goal is taking care of our customers," he said. "As we build our capabilities and grow, we're positioned to do that."
About the Author
Bob Trebilcock
Bob Trebilcock is the executive editor for
Modern Materials Handling
and an editorial advisor to
Supply Chain Management Review
. He has covered materials handling, technology, logistics, and supply chain topics for nearly 30 years. He is a graduate of Bowling Green State University. He lives in Chicago and can be reached at 603-852-8976.
Follow Robotics 24/7 on Facebook
Article topics
Email Sign Up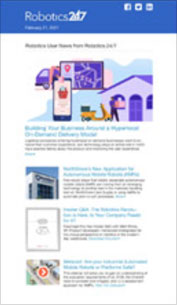 Get news, papers, media and research delivered
Stay up-to-date with news and resources you need to do your job. Research industry trends, compare companies and get market intelligence every week with Robotics 24/7. Subscribe to our robotics user email newsletter and we'll keep you informed and up-to-date.
Medline